The Top 10+ UK-based Online Tutoring Platforms – 2022 – 2023
Finding the finest online tutoring platform is a challenge for both students and tutors.
In reality, picking the best one may need extensive investigation into issues like commission rates, safety procedures, technology, and price, to mention a few.
Even if you might be pressed for time, it's crucial to choose the best online tutoring service for you because they are all different.
In an effort to assist you in your quest for the greatest UK online tutoring service, we have put together a thorough overview of our top ten suggestions.
This will enable you to make the best decision possible regarding the organizations that match teachers and students.
Revision Centre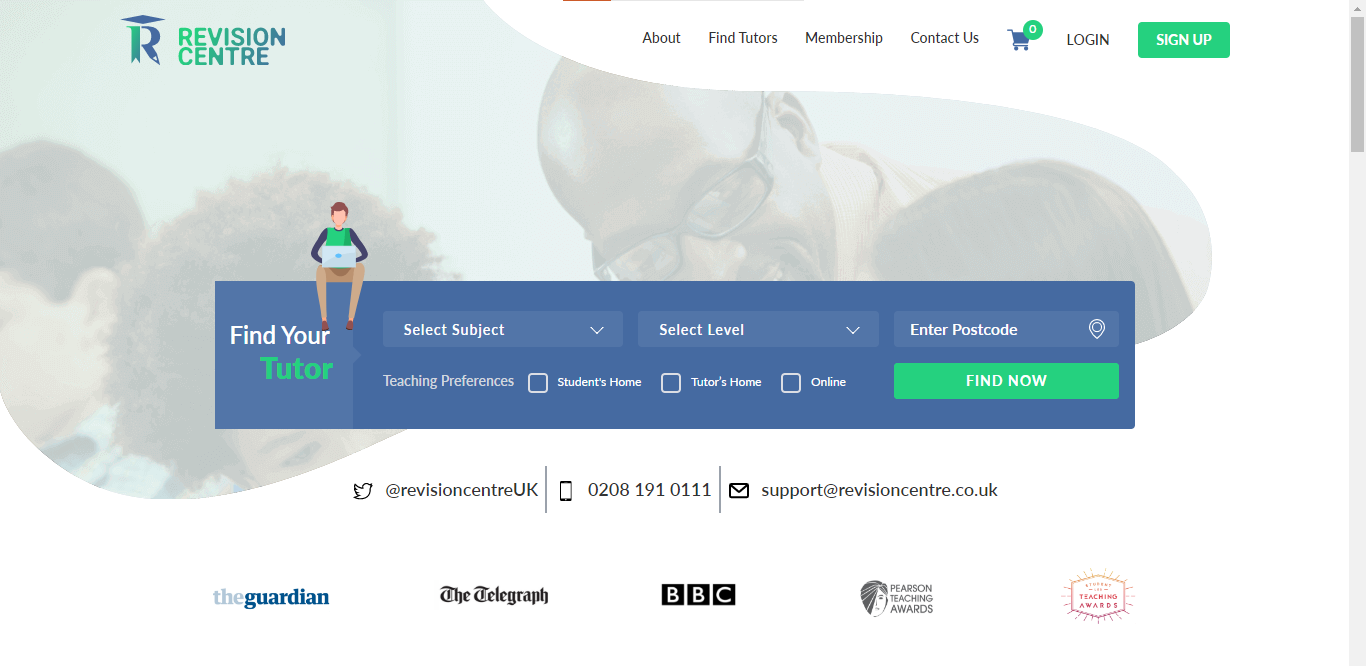 Revision Centre is a platform specialising in a range of different subjects, from GCSE to A-level, to help tutees increase their grades or boost their confidence. All tutors are based throughout the country with varying levels of experience, different price points, and availability both in-person and online, so there is a tutor for just about every student.
Students can search for a tutor, filtering their search by subject, level and more. This ensures that, as a student, all of your requirements will be met and you'll be paired with a tutor who knows the ins and outs of your chosen subject.
Safety
All tutors go through rigorous safety checks, including having their address and ID verified, passport checks, and a DBS check is also advised too. The result of these checks will be made clear on each tutor's profile in the form of a checklist. This means, when searching for a tutor on this website, you can be confident that you are in safe hands when being taught by a Revision Centre tutor.
When searching for a tutor, you can filter by location, and choose whether you'd like to be taught online, in the student's home, or at the tutor's house, to make sure you're able to learn in an environment you're comfortable in.
Commission Rates
One of the main advantages of tutoring with Revision Centre is the low commission rates, meaning tutors earn more for their time in comparison to other tutoring platforms. For the first three months, tutors on Revision Centre won't pay any commission, and thereafter they will only pay 10%.
Payment
Revision Centre has a secure payment system, allowing students to pay their tutors in a safe capacity. Unlike other tutoring sites, Revision Centre ensures that tutors will be paid within 48 hours of carrying out their lesson, which means that tutors won't be out of pocket or waiting long to be paid.
Like other tutoring platforms, Revision Centre also set their own hourly wage based on a number of factors, such as experience, the type of content being covered and where the tutoring is taking place. This can easily be adjusted on the platform at any time.
Additional Benefits
Revision Centre is an incredibly flexible service, with students and tutors alike. The site shows a real-time calendar to check the availability of the tutor, allowing students to book in at any time the tutor is "free".
The website makes finding a tutor easy by allowing students to filter their search by subject, level and teaching preferences (at their home, their tutors home, or online). When searching through the list of tutors available, each tutor will list their qualifications, pricing, hours taught and their experience, making it simple to choose the perfect tutor.
Furthermore, the site also has a moderated review system, where students will be able to read through reviews from previous students. This helps students to see exactly where the tutor excels and whether they suit your learning style or criteria. Similarly, the moderation process means that the reviews are fair to the tutors themselves.
Overall
In conclusion, Revision Centre is a fantastic choice of tutoring platform for both tutors and students alike for several different reasons. Their website is easy to navigate, with all the information you need easily available – from pricing to qualifications, and tutor availability on a daily basis – ensuring it's easy to find a suitable tutor for you or your child.
For tutors, this site is great for those looking for full-time or part-time work, with low commission rates, fast payment, and the ability to choose your own pricing and when you're available for booking.
Tutor House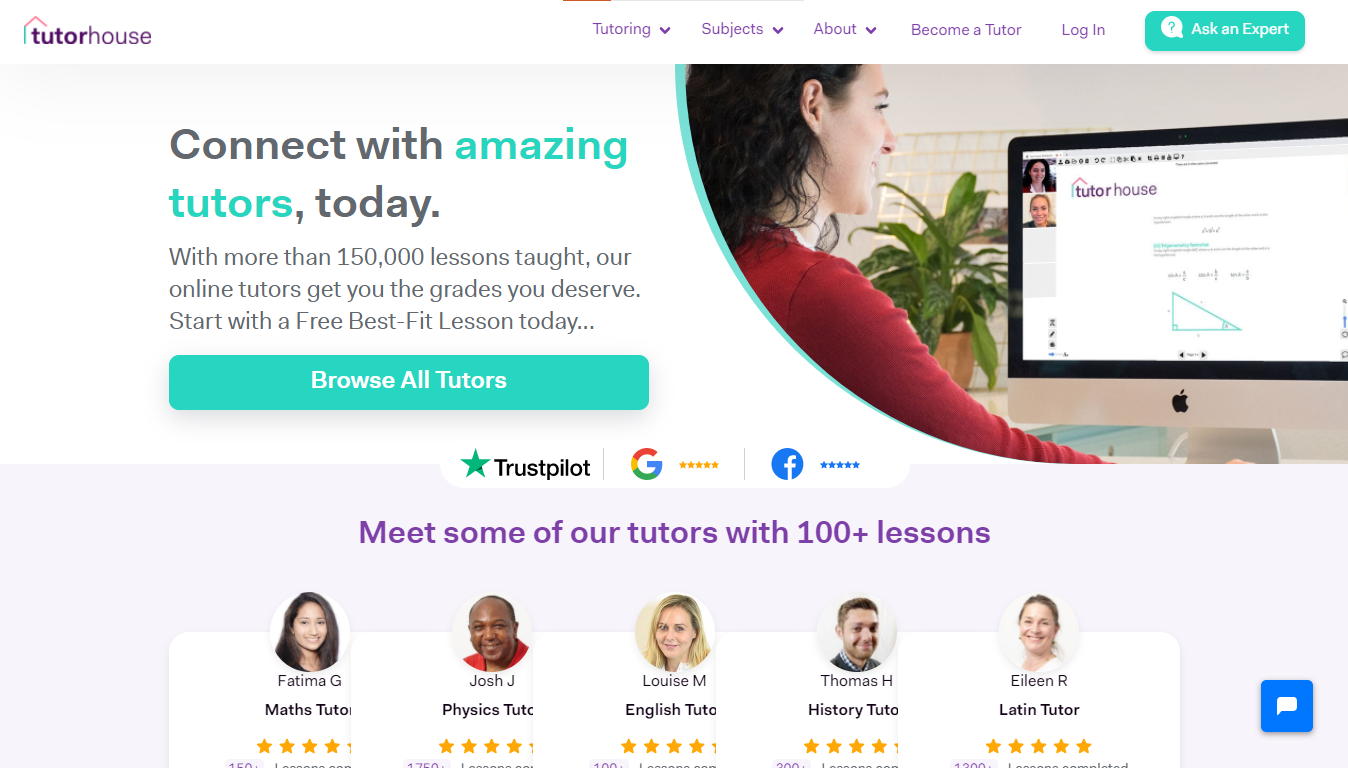 Tutor House is primarily focussed on exam preparation, tailored to students who are looking to get ready for upcoming tests. It is mainly based online, but there are opportunities to only meet up in person too.
Unfortunately, this tutoring platform does not include a search function that allows you to filter tutors by level, so this is a conversation students will have to have personally with any potential tutors before starting any lessons.
Safety
Tutor House conducts a range of pre-employment checks in order to verify qualifications, which means they only employ the top 20% of applicants. Tutor profiles clearly show whether a tutor has been verified, which means all background checks into their education have been carried out. However, it is not clear whether tutors need to obtain a DBS check.
As the platform is geared towards online teaching, there isn't any worry for tutors or students going to an unfamiliar setting, but does take some of the personal quality out of tutoring.
Commission Rates
One downside of Tutor House is their high commission rates for tutors. They take anywhere between 15% to 20% commission, depending on how many hours tutors spend teaching. The more hours teaching tutees, the less commission the company takes from your wages. This can be a major drawback to tutors looking to use this platform on a part-time basis.
Payment
Tutor House has a secure payment system which sees students paying for lessons before they happen, to deter any cancelling without warning and leaving tutors out of pocket. However, tutors do not receive this payment until 5 working days after the session has been carried out.
When it comes to hourly wage, tutors can set their own price point and can easily adjust this on the platform.
Additional Benefits
Tutor House is an easy-to-use platform and has an online calendar where students can pick a time that suits them. One of the best features is their tutor matching service where you can list your preferences, subject, level, and personality traits before being shown a list of tutors that will suit you.
Overall
All in all, Tutor House is a good choice for tutors who want to be able to choose their own schedule and location. Their site is accessible for students, with clear information on the tutor's levels of experience and education.
In terms of earnings, payments are on the slower side and they have a higher commission rate compared to other tutor sites, but their secure payment system is a bonus. 
Fleet House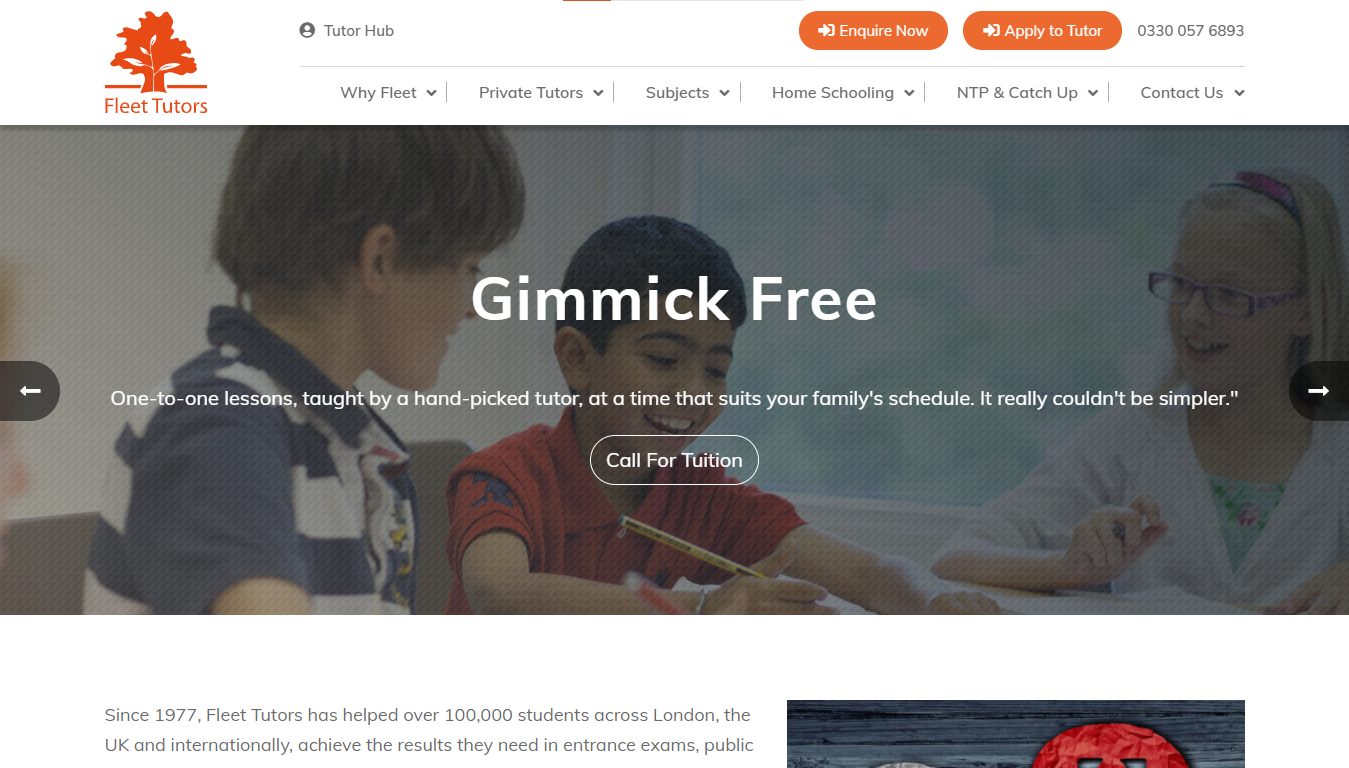 Fleet Tutors is slightly different from the other platforms considered, as it is more in the vein of working for the company rather than a site to connect tutors and students.
They have tutors who can teach core subjects, such as English, mathematics, geography and history. However, if you're a student looking for tuition in a less well-known subject, you may struggle to find it on this platform.
Safety
There are a number of steps tutors must complete before being able to hold their first tuition session, such as an initial application, personal interview, DBS check, document verification, and reference checks. This structure means that the service is safe for students and they can be assured that their tutor is 100% qualified.
One-to-one lessons can be conducted at the student's home or online, so there is no worry of having to go to a place where you're not comfortable.
Commission Rates
There is not a lot of information available in terms of commission rates but, through looking at employee reviews on Glassdoor, tutors can expect to earn an average of £30 per lesson. Fleet Tutors send an invoice to students and expect it to be paid within 14 days, at which point the tutors will be sent their money. For many, this is a long time to wait to be paid and one of the downsides of working for this company.
Payment 
The overall view of Fleet Tutor's payment plan is that wages are sent on time and in full. One previous employee stated that the role itself does not have much security, and work can be hard to come by, meaning that this tutoring platform may not be the best for tutors looking for full-time work.
Additional Benefits
One interesting aspect of Fleet Tutors is their bespoke home-schooling programme. This is an intensive course that can fit around the student's own schedule and look to help them achieve their personal goals.
All tutors are degree-qualified in their chosen subject, so students know they are being educated by someone who knows what they're talking about.
Overall
In short, Fleet Tutors is an exclusive service that offers high-quality tutors who are well educated and qualified. All core subjects are covered within this platform, as well as other options like homeschooling.
Their service does not seem as personal as other sites do, and the chance to pick your own tutor is not advertised. If extensive knowledge of the subject area is more of a priority over what kind of tutor you are working with, Fleet Tutors is a good choice. 

Superprof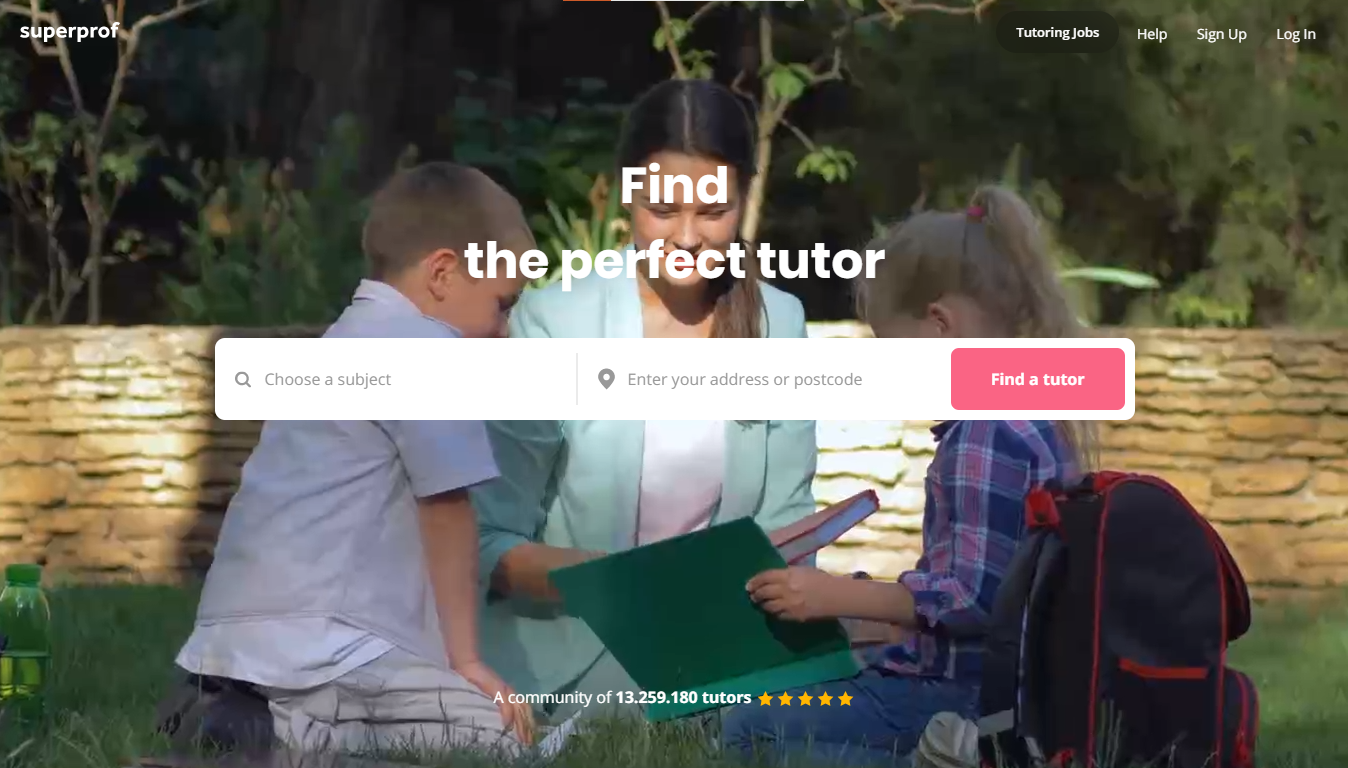 Superprof is one of the largest tutor platforms, with more than 13 million tutors around the world who can teach over 1,000 subjects. Students who require some help in more niche topics may be able to find a tutor on here compared to other tutoring sites.
Safety
The site works by students looking through tutor profiles and choosing the right one for them in terms of qualifications, prices, experience, and approach. They can then get in touch with the tutor themselves to organise a lesson either at home or online. The choice of location means that there is a good layer of security protecting both the tutor and student's safety.
However, there isn't any evidence of tutors having to obtain a DBS check or go through any rigorous application stages, like other tutoring platforms in the UK.
Commission Rates
If you use the payment system on Superprof, where you can get paid through bank transfer or PayPal, they will take a 10% commission to cover all administration costs. Alternatively, to avoid these commission costs, you can organise with your students to obtain payment in another way, although this is not verified through the platform itself.
Payment
In terms of payment, students pay before the lesson starts, with tutors being able to access this 24 hours later – one of the fastest.
Tutors can choose their own lesson pricing and change this as and when they want to. For all new tutors on Superprof without any reviews, you are advised to offer the first lesson for free to build up your profile.
Additional Benefits
Superprof is an incredibly flexible service, with students and tutors alike being able to choose when they are available. That being said, tutors who set their available hours at less sought-after times will find they are not able to build up a lot of time tutoring, with some previous employees stating the hardest part of the job was finding clients.
Overall
Superprof is a good platform for tutors who do not necessarily have the level of education or qualifications that other tutor sites ask for. It is easy to set up a profile, but finding potential students and earning a good wage can be difficult.
One major downside of this platform is that students have to buy a pass in order to contact tutors which starts at £29, so they need to commit to tutoring without even meeting any potential educators which can be off-putting to many. 

First Tutors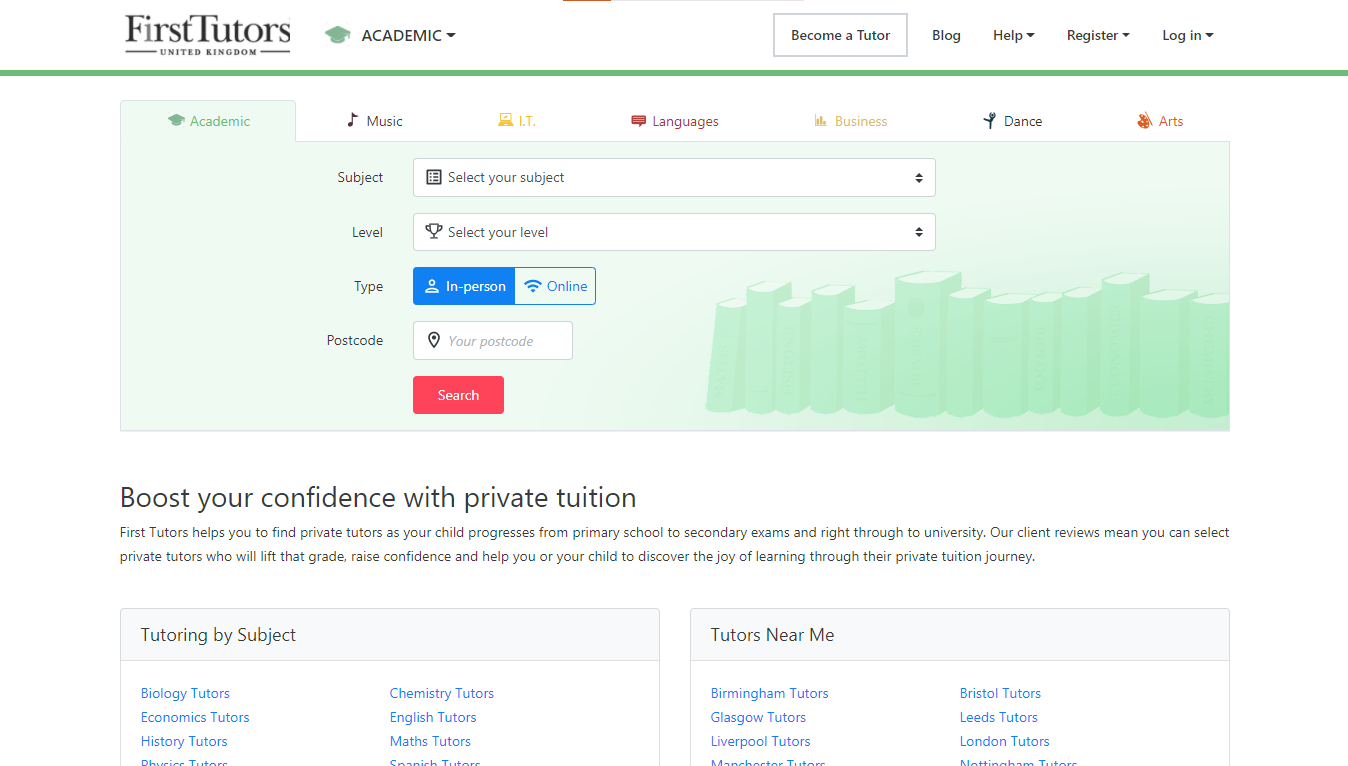 First Tutors offers help to a wide variety of students, from primary school age right through to university students. Through tutors writing their own profiles, students are able to get a feel of their personality and skills before even having an initial conversation.
Safety
First Tutors carry out some reference checks before the tutors are able to start conducting lessons on the site, as well as verifying their ID in order to increase the safety levels for the students. Students can work with tutors to find a suitable location where all parties feel comfortable.
The reviewing system means that potential clients will be able to read the honest thoughts of previous students. First Tutors also offers a support system 7 days a week to help with any concerns from tutors or students.
Commission Rates
First Tutors do not charge commission as they are not, in any way, involved with the payment – it is up to the tutors themselves to set-up a payment plan. However, this means that they often have to spend time chasing parents for money after not keeping up-to-date with their charges.
Students who wish to connect with tutors on this site need to pay a one-off fee of between £4.99 and £24.99 before being able to get in touch with them, which may be unappealing to many.
Payment
Tutors are able to set their own hourly rates but are encouraged to set them in-line with the average in their area in order to attract more students. Often, tutors that have a lot of experience are able to charge more than those who are just starting out.
First Tutors are not liable for any payments, so will not be able to assist if things ever go awry and clients are withholding money.
Additional Benefits
First Tutors has a search function where students can find tutors based on subject areas and level – it is even divided into groups like languages, business, academic, and arts. During the initial search, students can choose whether they'd prefer online or in-person sessions, to further narrow down their options.
Overall
First Tutors is suitable for those who want to be in charge of their own schedule, earnings, and customer base. It is a flexible platform and can be fit in around a full-time job as a way to earn some extra income.
A common concern of tutors who use this site is the number of hours available. Many state that students are hard to come by, which makes making a good wage difficult when you take into consideration the time outside of the lesson that is unpaid, such as preparation or marking.

Tutorful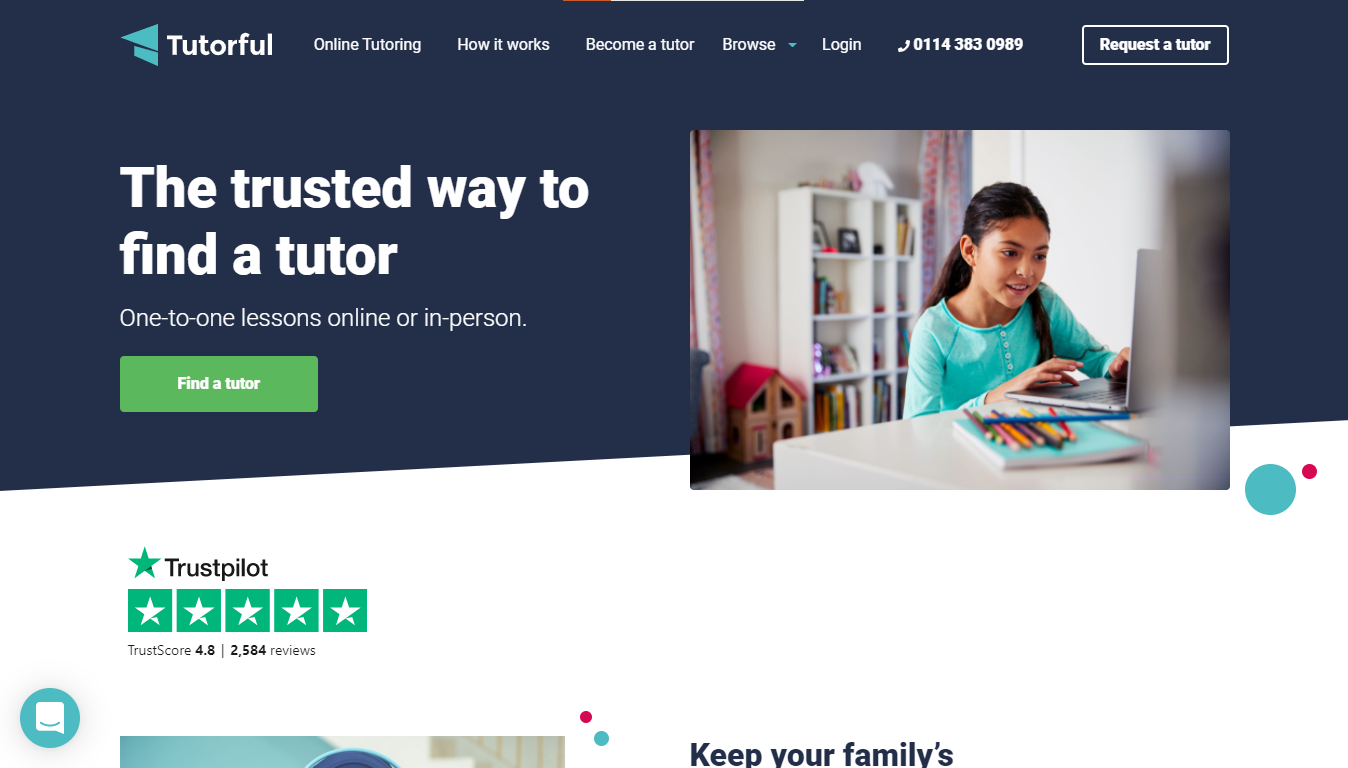 Tutorful is one of the most popular online tuition platforms on the market and offers tuition in over 300 subjects in total – one of the largest. The site is also home to many tutors, which means availability is better than can be found on competitor sites.
Safety
As far as the safety of both tutors and students is concerned, it is worth noting that a DBS check is not compulsory for new tutors, but some form of identification and a billing address is. This is, however, mainly to ensure payment is both legal and convenient.
Tutorful retains the ability to monitor messages, lessons, and content between tutors and students, which does make the platform safer for those that use it.
Commission Rates
When it comes to commission, it is worth noting that Tutorful takes a substantial cut of a tutor's earnings. Compared to other platforms with relatively low commission rates of roughly 10%, Tutorful tutors are charged 25% worth of commission for up to 250 hours taught on the platform, and 20% for those that teach over 250. Whilst this is a hefty amount, the platform remains very popular so it might be that the benefits of the site outweigh this disadvantage.
Payment
Regarding payment, tutors are able to choose their own pricing but are asked to do so sensibly which is good for tutors in terms of making earning more flexible.
However, payments for your lessons are not received immediately after a lesson or soon after. The site takes payment 24 hours after each lesson, but tutors are likely to receive this in their bank account around 8 to 9 days later. That said, the money does go straight into your bank account without you needing to do anything, which makes the process of getting paid with Tutorful stress-free if you don't mind the wait.
Additional Benefits
One commonly cited benefit of Tutorful is that their software is among the best. For example, they offer access to an intuitive whiteboard which allows learning together to be more interactive than other platforms. The site is also easy to use and very accessible.
Overall
Overall, Tutorful is undoubtedly a popular online tutoring site, with good resources and availability for both tutors and students. It is also pretty safe compared to offline tutoring which often requires few or no identity checks. However, the matters of commission and payment are slightly less appealing when it comes to Tutorful since they take a big cut and payments can take over a week to arrive – which is somewhat larger and longer than competitor sites.

MyTutor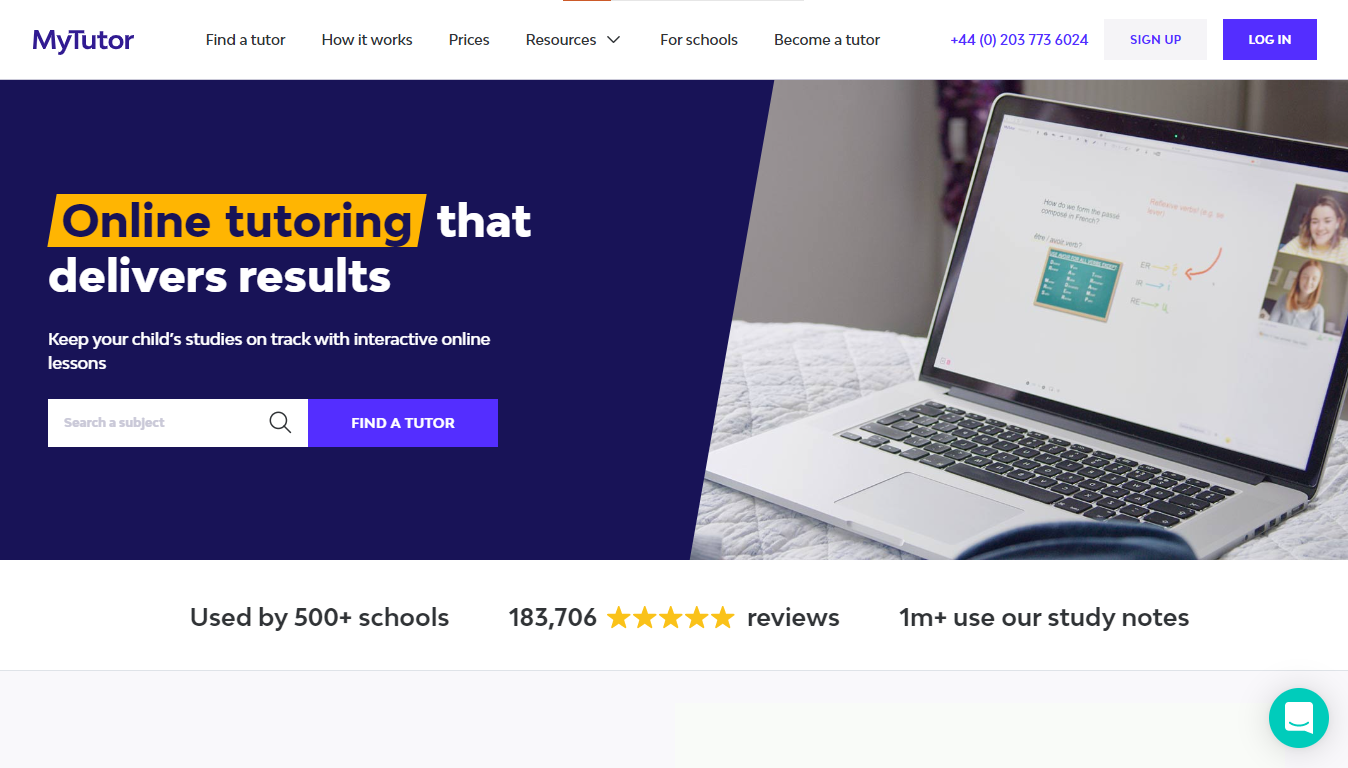 MyTutor is yet another popular choice in the online tutoring industry and the platform boasts the same flexibility and broad benefits of most other major online tutoring communities. The site is well known amongst students and tutors alike, so it was bound to score a spot in our list of the best online tutoring platforms.
Safety
Like many online tutoring sites, MyTutor also does not require the completion of a DBS check before tutors join the community. However, MyTutor has its own set of interviewers who interview prospective tutors, which certainly enhances safety online.
The platform also prohibits sharing any personal information with parents, such as personal contact information, and says that all communication should be through the monitored online lesson space instead. In short, the platform abides by strict child safety guidelines, making it one of the safest.
Commission
It is unclear how much commission MyTutor charges tutors for using their platform as they do not advertise this, but they do say that tutors can expect to earn roughly £10 to £24 following the commission charge and VAT. Although, it is rumoured on forums such as Glassdoor that the commission can be as high as 40% for low price bands, and 25% for higher price bands of tutoring which, if true, is considerably higher than most tutoring platforms.
Payment
MyTutor may not be a good fit for tutors seeking fast and flexible payments. Unfortunately, receiving payment with MyTutor is slightly inconvenient since there are only two payment dates throughout the month – one in the middle of the month for the first half of the month's bookings, and the second at the start of the following month, for the latter half of the month's bookings. This might work well for many but is not ideal for tutors seeking more immediate payment for their time.
Additional Benefits
There are a few benefits of MyTutor that set it apart from other popular platforms. Firstly, the platform is actually relied on and partnered with schools, which means it has a great reputation and high standards of teaching. Another benefit is that the site has a large and helpful customer service team that is prepared to help students, parents, and tutors with any issues in a prompt manner. So MyTutor is a good choice among those seeking a simple and stress-free service.
Overall
Overall, the platform is a credible and safe place to teach and learn. Although, it may be deemed less preferable due to the nature of receiving payments and the potentially hefty commission charges that are imposed since these can prove slightly inconvenient and expensive for tutors. With that in mind, MyTutor is certainly an attractive option for students though.

Teach9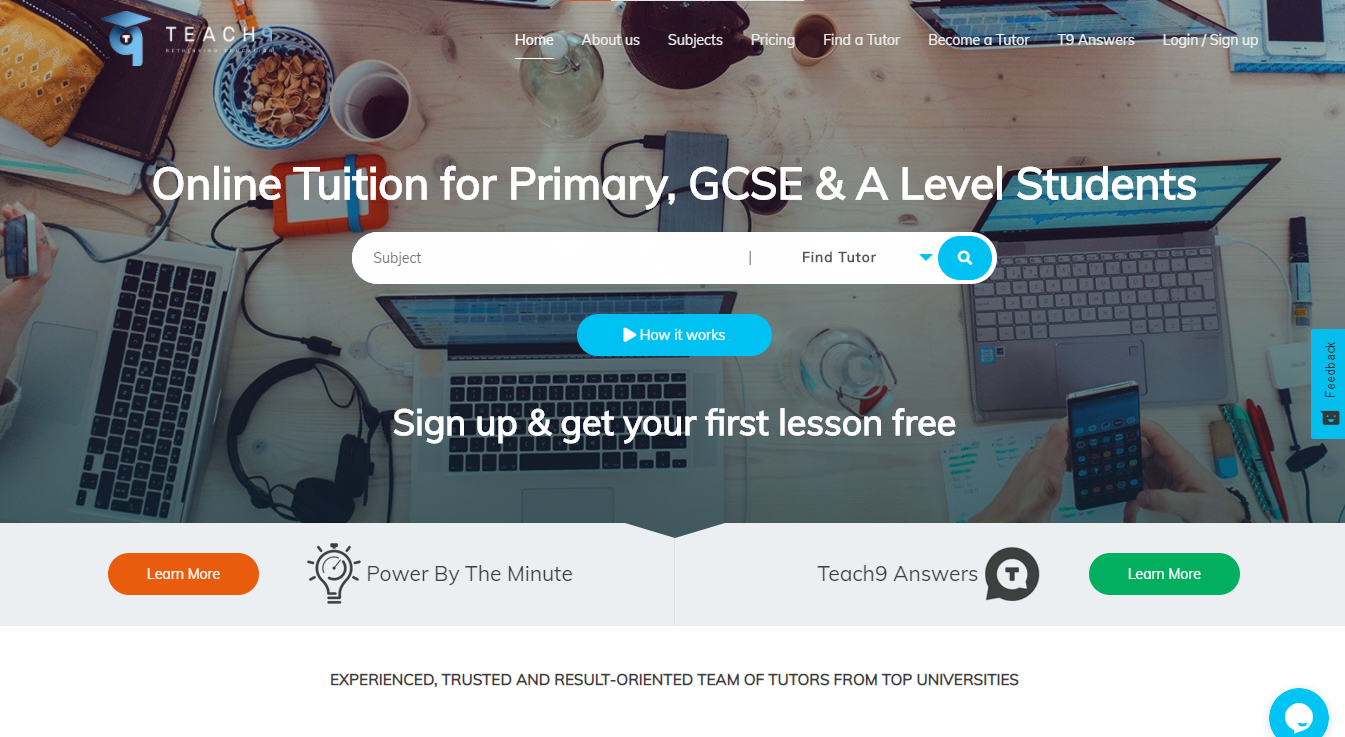 Another online tuition platform based in the UK is Teach9 which offers a broad spectrum of tuition services to students ranging from primary school right up to A-level. The site has an easy-to-use tutor search option, and even offers a free trial lesson to get students started.
Safety
One of the best things about Teach9 is the safety measures the company has put into place. As far as tutor and student safety is concerned, all tutors on the site tend must sit an online subject test, have an interview with Teach9, and complete background checks before being able to teach students on thes site. This helps to enhance the quality of tuition students receive and the safety of the platform more broadly.
In fact, the site says that aside from most tutors completing a DBS check, sessions are also recorded and available for playback by students, tutors and parents, with all communication through the platform. This means that the conversations are monitored, thus enhancing safety on the site for tutors and students alike.
Commission
The rate of commission from Teach9 is also not advertised on their website, so it is unclear how large of a cut the company takes from tutor earnings for use of the platform.
Payment
One downfall of this site for tutors is that they do not have the flexibility to choose their own prices since the platform has its own fixed charges. Fortunately for students, but less fortunately for tutors, the set prices are relatively low, ranging between £15 – £17 across the various levels of education. This may be unappealing to many tutors who are looking for a far higher and more flexible rate of pay.
The process of payment on this site is also slightly different from other sites, but it is potentially better organised. Teach9 manages payment through a wallet function whereby you can cash out your earnings yourself rather than these getting transferred directly into your bank account. This same wallet function is used by students and parents who essentially "top up" the wallet to pay for sessions.
Additional Benefits
One additional benefit of the Teach9 site is that there is an interactive calendar feature which is colour coded to represent scheduled, cancelled, resumable, and completed lessons. This handy feature makes booking, amending, and cancelling any tutorials and lessons far easier than other sites.
But that is not all since Teach9's playback feature is also advantageous for students that learn better by reflecting back on the lesson. This is a feature that not all tutoring sites offer.
Overall
Overall, Teach9 boasts some of the most stringent security rules and efforts and some strong tech advantages such as playback and online calendars, making it an attractive choice for students and tutors alike.
However, the rate of pay for tutors is considerably less than what is advertised on other sites and there seems to be less flexibility in determining your own rates. What's more, it is unclear how much commission is deducted from this fixed pay, so whilst the site has plenty to offer, it will likely be less attractive to tutors looking to optimise their earnings.

TutorClass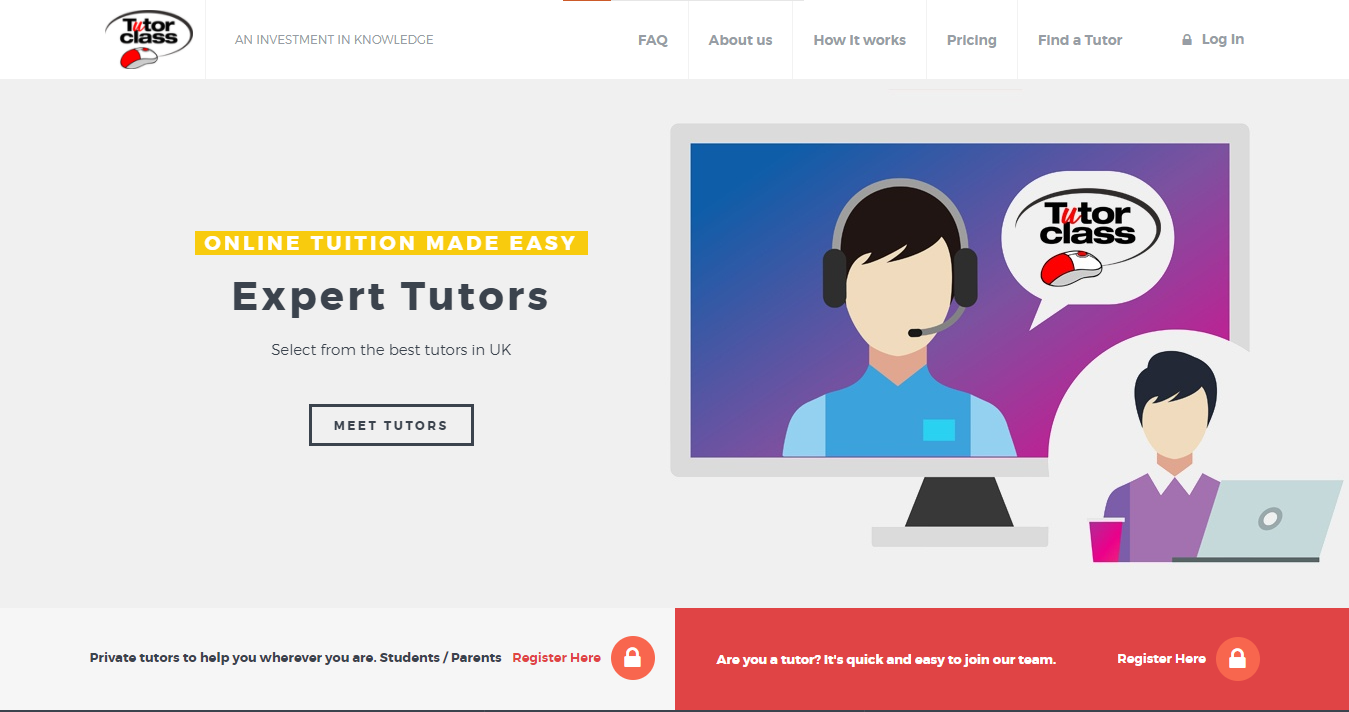 Serving as one of the oldest online tuition businesses around, TutorClass is trusted by many to help parents and students find the best tutor. The platform hosts a pre-arranged online classroom which is prepared for tutoring sessions, making them fun and effective.
Safety
It will be a relief to parents to hear that before hiring a tutor, TutorClass requires that any tutors must have a current DBS check, or be a current student at university. They also say that for safety purposes, all tutoring sessions are recorded and that any inappropriate behaviour will be reported, with offending accounts deleted. These promises make TutorClass a safe place to teach and learn.
Commission
As far as commission is concerned, it is not clear exactly what percentage tutors will be charged to use the platform, only that there is a 'small charge payable' that will be deducted from the collected fees. The platform also charges additional subscription fees for more advanced packages, so they profit from this also.
Payment
When using TutorClass, it appears that tutors can set their own prices in accordance with the subject, level, and their personal experience which is a very flexible way for tutors to earn.
All payments are processed through a platform called Stripe, which is a payment gateway renowned for its high security. Once the commission charge and any other charges have been deducted, payment is forwarded to the tutor but it is unclear how quickly this is done.
Additional Benefits
Arguably one of the most significant benefits of TutorClass is its state of the art online classroom which boasts audio and video features, a fast and simple drag and drop whiteboard, and the ability to annotate directly onto digital documents for an interactive experience. Not only does this make it easier for tutors to engage their students, but it also makes learning more versatile depending on the subject.
Overall
Overall, TutorClass is a platform with great software that makes online tuition more convenient and has great safety precautions. However, it is unclear how costly it is to be a tutor on this platform and how prompt payment is for tutors which is often an important consideration for those starting out.